Stackable Plants Pots - 6 Trays+ Wheel Tray
$ 89.95

$ 89.95

Save

$ 40.00
---
---
Stack this planter in your home, balcony,or garden with strawberries or flowers!🍓🌼
Gardening works wonders for your physical and mental health. When you garden you make things grow, you create food and you transform spaces. ... Gardening acts like therapy when you're upset or just need to chill out from a stressful day. Gardening can help you feel happier, healthier and more confident. Our product will get you started!
 Stackable Plants Pots - 6 Trays+ Wheel Tray
SAVES YOU MONEY : Growing even a small plot of the vegetables that your family likes to eat can save you a boatload of money. Your home-raised organic produce is a valuable commodity especially when you compare it to the price of organic veg in the grocery store.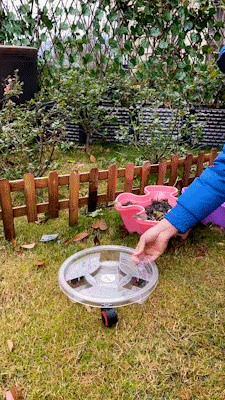 THE PERFECT GIFT FOR YOUNG KIDS
These planters are so easy to use and the results are beautiful. Your children will see the magic first hand of growing their own fruits and vegetables. 
Adding more fruits and veg to our diets is the first step to a healthier lifestyle. What could be better than eating freshly harvested food from your own garden! Growing your own gives you the opportunity to try new things. Who knew how delicious a tomato could be until you picked one and ate it warm right off the vine!
. Give them a gift they will always remenber.
INCREDIBLE DISPLAY OF COLOR
 Our unique and attractive stacking design is perfect for small gardens.

You can grow anything you want

and it is pleasant to see from all angles. Suitable for small spaces, such as dormitory rooms, studio apartments, balconies or any limited places. 
Flowers
Vegetables 
Succulents
Fruits
EASY TO TAKE CARE 
This stackable gardening tower is made of food-safe polypropylene plastic, and you can use it as 6 independent plant pots, or you can stack it to build a flower tower.  It has an

intelligent watering system

: The watering cup will make the water go down to the following layers.  The water will low vertically and slowly, so there is no need to worry about water on the surface.
Named Best gardening Product
This beautiful stackable flowerpot design has been named the BEST GARDENING PRODUCT to arrive in 2022.  It attracts attention and saves space.  It is a cool decoration for dorms porches, balconies, lawns, courtyards; .....In fact you can place them everywhere outside and inside , depending on what you plant. 
Removable bottom trays : With a flexible plant tray with 4 wheels, it is strong and durable, allowing you to easily move potted plants to any place you want, never worry about winter or summer. The raised edge structure can store excess water and soil .
                                       

     Keeps the floor clean all day long.

CREATE YOUR OWN ORCHARD
THE JOY OF NATURE AT ITS BEST.
THE DIFFICULT PART .... WHAT COLOR TO CHOOSE 
Material: Polypropylene Plastic
Product color: white, yellow, green, blue, pink, purple
Product Size:
Flower pot: 33*16cm, tray: 32*3.5cm

5 Reasons To Buy From Us.
---
Customers Also Bought