Big Fun Tic-Tac-Toe Game
$ 24.95

$ 24.95

Save

$ 10.00
---
---
 Tic-Tac-Toe style game with pizzazz
Games played on three-in-a-row boards can be traced back to ancient Egypt, dating from around 1300 BC. An early variation of tic-tac-toe was played in the Roman Empire, around the first century BC.
The game Tic-Tac-Toe is a simple and fun game for 2 players, X and O. ... Players take turns placing their Mark, X or O, on an open square in the grid. The first player to make 3 of their own mark in a row vertically, horizontally, or diagonally wins the game.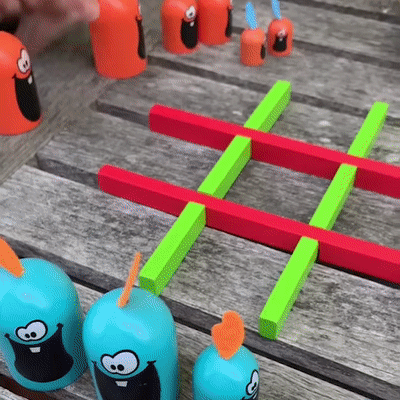 Funny characters bring fun to this Tic-Tac-Toe 
Test your memory and appetite for laughs with this easy to learn and quick game of strategy. Just line up three of your Gobblers in a row to win. But watch out! These Gobblers are hungry for fun…and other Gobblers. Awash in cheerful colours, this board game is made to be treasured.
Gobblet Gobblers 
This is the best first strategy game for young kids to challenge their parents.
It contributes to improve the ability and eye-hand coordination of kids, enhances their color and shape recognition and their imagination and ability. Ages: 5 and Up. 
Fun Family Game
Cartoonish characters bring pizzazz to this Tic-Tac-Toe style game. Just line up three of your toys in a row to win.
You can play with your children to strengthen the interaction and communication between you and your child.

PLACE YOUR ORDER AND HAVE FUN
Contents: - 1 Grid - 12 Gobblers - Illustrated Rules
Packing List:
Small chess piece red*3
Medium chess piece red*3
Large chess piece red*3
Small chess piece blue*3
Medium chess piece blue*3
Large chess piece blue*3
Checkerboard installation stick*4
Sticker*1
Specification:
Material: ABS
Size: About 21cm / 8.2 in
5 Reasons To Buy From Us.
---
Customers Also Bought