Ultra-Fit Shockproof Sports Bra
$ 34.95

$ 34.95

Save

$ 10.00
---
---
How Do I Stop My Boobs Bouncing When I Run?
If you're female and exercise, a certain amount of breast movement is inevitable.  But bosom movement extends beyond bouncing up and down – it also involves moving side to side, which impacts on breast health.   72% of exercising females experience breast pain during physical activity.  That's where the idea of breasts "sagging" comes from.  So an external support garment is required to ensure exercise can be carried out without breast bounce –and that is where the the Sports Bra comes in!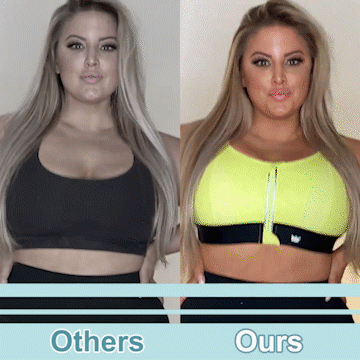 The best sports bra for an active lifestyle!  
Get the best support for your active lifestyle from our Ultra-Fit Shockproof Sports Vest!   Breathable and shockproof, it provides you the utmost comfort and free range of movement for any physical activity.  It features a front zipper closure that makes it easy to wear and remove.  The velcro straps on the shoulder and back let you freely adjust the fit to your preferences. They are extra wide straps for better support and to distribute pressure, preventing pain or discomfort.  
 Breathable and Shockproof,
Front Zipper Closure
Extra WideVelcro Straps
Sexy Cup Shape:

 Three Quarters(3/4 Cup)
Bra Style: Seamless and Push Up

Helps the breasts and the trunk of the body to move as a unit
Broadening the understanding of the breast
By investigating breast pain, the mechanics of breast movement and the influence on sporting performance, we are broadening the understanding of the breast, informing breast support design, and raising awareness of an important quality of life issue for women.

ORDER NOW 
THIS SPORTS BRA IS ONE THAT YOU WILL

LOVE. 
 Ideal for physical activities like running, yoga, pilates, workouts, and all sports
5 Different Colors - Black, White, Gray, Rose Pink, Purple
Material:  Spandex+Cotton+PolyesterPolyester Fiber 
Sizes: S, M, L, XL, 2XL, 3XL, 4XL, 5XL
ORDER ONE SIZE BIGGER IN SOME CASES
5 Reasons To Buy From Us.
---
Customers Also Bought